Concept, design, print, mail! There are many aspects of a successful print campaign. Whether it be a trade show graphic, or a 'thank you' card, we help our clients comfortably navigate through all steps of the process, which save you time, money, and sanity.
Attention to detail. It might rain brilliant colors under this Umbrella, but not until every aspect of the job is examined by several sets of expert eyes. We understand that timelines necessitate perfect print jobs the first time around, and pride ourselves in providing the peace of mind that you deserve.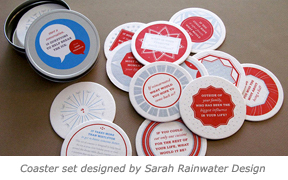 What can we do? Quite a bit! Business cards, letterhead, banners, envelopes, vehicle wraps, folders, decals, brochures, posters, business forms, catalogs, labels, flyers, and so on. No matter if it's one color, or hundreds, our prices are tough to beat.
Like thinking outside the box? Say hi!
Jason E. Smith, CPA
"I have used Umbrella Imprint's services multiples times, and I am continually impressed at the level of service they provide. John is an extremely detailed person and he ensures that every component of the product is to your satisfaction. I recently had him create new business cards for me and he completed them from design to print. He provides insightful ideas and is constantly trying to make the product as perfect as possible. He wants to make sure that you are 100% satisfied, and it would be in your best interest to contact Umbrella Imprint."